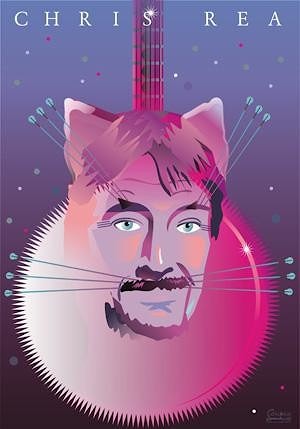 People all over the territory of the former USSR love Chris Rea. Women love him for his romantic ballads, men – for his hoarse voice, which is so close to the Russian soul, rockers – for the series of great blues records, nostalgic older generation – for the memories of student parties and the records issued by the much talked-about company "Melody" – Chris Rea "On the Beach" which was heard in the dark when very promising dances started. Don't forget that it was Soviet times and people were not sure whether it was
beach
or
bitch
and interpreted the song quite freely.
More than 30 million copies of records by Chris Rea comprise all the pleasures of rock, blues and pop music. The new program
Still So Far To Go
, which gave the name to the tour, consisted of the best hits of 30 years. It created very warm atmosphere of fascination and charisma, and charmed away absolutely everyone.
Chris Rea was also impressed by the public – he had pleasant memories of his previous visit two years ago, when he was performing
Looking For The Summer
and the audience sang it along with the musician. Maybe that is the reason why during his second concert Chris Rea had fun and fooled around on the stage with great enthusiasm.
Perhaps the close contact with the Minsk audience was the reason for another unique and unusual thing: the great British bluesman organizes press-conferences very rarely (1 press-conference for 25 concerts), and in Minsk he held a second press-conference! In was during this meeting when the artist Sergey Stelmashonok presented Chris Rea with the cat-style portrait of the musician. Chris Rea also got acquainted with other works from the ROCK-CATS series and noticed that he has a very good company.